Taste That Intrigues
Welcome to the 2017 Parker Products feature flavor program. Here, you'll discover some of our most scintillating new flavors for frozen desserts, which we hope will inspire you with ideas to excite your customers and build your brand. Scroll down to read more about a few of our top flavors.
September 20, 2016
Parker Products Announces Annual Feature Flavors
2017 trends come to life in 11 frozen dessert flavors FORT WORTH, TEXAS – September 20, 2016 – Parker Products recently launched its 2017 booklet on feature flavors for ice cream, which highlights the company's latest intriguing flavor combinations. The on-trend flavors, developed by Parker's creative R&D and marketing teams, […]
Consumers don't return for good. They return for special—for new flavors that excite and intrigue. As a maker of frozen desserts, you have the opportunity to stimulate both taste buds and loyalty. You do this with intriguing flavors. You do this with Parker Products.
Our feature flavors for frozen desserts include flavor bases, inclusions, grinds, coatings, fruit preps, and variegates—everything you need to draw your customers in to a satisfying, exciting taste experience. All flavors are natural and support clean labels.
This page gives a preview of a few of our top flavors. To get the full list of flavors, download the full booklet at our resources page. For more information, reach out through our contact form—just mention feature flavors in your message.
Favorite Flavors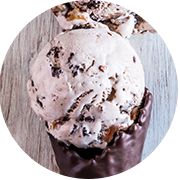 Whiskey River
Brown sugar fudge ice cream blended with triple fudge brownie chunks and whiskey pecans and a whiskey river swirled throughout.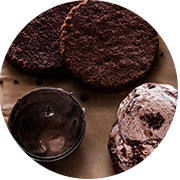 Sheet Savvy
Our take on the traditional Texas sheet cake. Rich chocolate ice cream blended with chocolate cake, praline pecans, and swirls of chocolate frosting.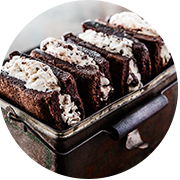 Banana Stand
Banana ice cream with swirls of milk chocolate cream and a blend of chocolate cookies and chocolate flakes.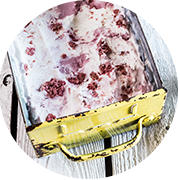 Raspberry Buttermilk Sherbet
Buttermilk ice cream blended with raspberry cake pieces and swirls of raspberry sherbet.
Santa S'more
Marshmallow ice cream with swirls of graham and a blend of chocolate flakes and candy cane pieces.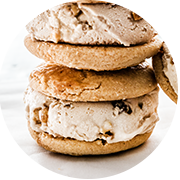 Parmesan Sables
Hazelnut ice cream blended with parmesan sables and rosemary pecans.
For More Flavors, Get In Touch