On-Trend Flavors
For 2018, Parker Products has developed ten new flavors that help brands intrigue consumers and grow their business. From fresh and fruity to smooth and bold, these flavors for ice cream and novelties have something for every palate. Check out a few of our favorites below, or visit the post at right to download the full list.
December 11, 2017
DOWNLOAD: 2018 Feature Flavor List
Parker Products is pleased to announce our 2018 list of feature flavors for ice cream, encompassing ten on-trend flavor concepts for ice creams and novelties. Our intriguing concepts for dairy brands include a pineapple-lime novelty with pink peppercorn and a bourbon, pear, and blue cheese ice cream. Download the full list […]
Consumers don't return for good. They return for special—for new flavors that excite and intrigue. As a maker of frozen desserts, you have the opportunity to stimulate both taste buds and loyalty. You do this with intriguing flavors. You do this with Parker Products.
Our feature flavors for frozen desserts include flavor bases, inclusions, grinds, coatings, fruit preps, and variegates—everything you need to draw your customers in to a satisfying, exciting taste experience. All flavors are natural and support clean labels.
This page gives a preview of a few of our top flavors. To get the full list of flavors, download the full booklet. For more information, reach out through our contact form—just mention feature flavors in your message.
Favorite Flavors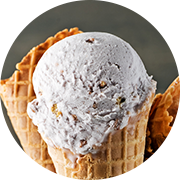 Plum Streusel
This refreshing ice cream features a plum base, tarragon streusel, spiced honey almonds, and a whipped cream core.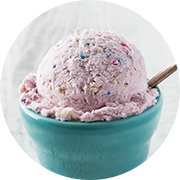 Circus Animal
A whimsical flavor featuring a pink sugar cookie base, sugar cookie pieces, and confetti icing.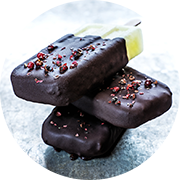 Pineapple Lime Bar
A pineapple lime sorbet pop dipped in dark chocolate and garnished with pink peppercorn.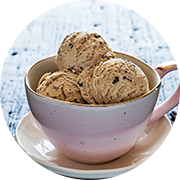 Cold Brew
This cold brew flavor features a cold brew coffee ice cream base, chocolate covered coffee beans, and a caramel coffee creamer.
For More Flavors, Get in Touch