CAPTIVATE CONSUMERS
We asked our developers to imagine up some exciting new flavors, and they delivered. Parker Products brings you 12 new ice cream concepts for 2019. Featuring rich brownie bites, chewy cookie pieces, flaky pie crusts, and moist cake morsels, these creations are full of surprising textures. Check out our standout favorites below and download the full list to the right.
November 13, 2018
DOWNLOAD: 2019 Feature Flavor List
From rhubarb to rum, cake batter to cotton candy, our product developers outdid themselves with our 2019 list of Feature Flavors for ice creams. Download the full list below and get inspired with ways to grow your business through intriguing flavor concepts.
Consumers don't return for good. They return for special—for new flavors that excite and intrigue. As a maker of frozen desserts, you have the opportunity to stimulate both taste buds and loyalty. You do this with intriguing flavors. You do this with Parker Products.
Our feature flavors for frozen desserts include baked inclusions, flavor bases, colorful toppings, coated nuts, and variegates—everything you need to draw your customers in to a satisfying, exciting taste experience. All flavors are natural and support clean labels.
This page gives a preview of a few of our top flavors. To get the full list of flavors, download the full list. For more information, reach out through our contact form—just mention feature flavors in your message.
Favorite Flavors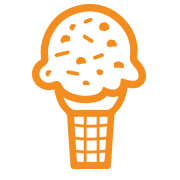 It's Cool to be Dumped, Barb!
Inspired by a classic dump cake, this flavor features cake batter ice cream, a rhubarb variegate, yellow cake pieces, and whipped cream sprinkles.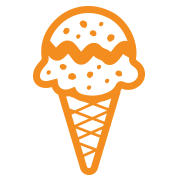 Monster Mash Up
This ghoulish delight features chocolate ice cream, a glittery purple variegate, chocolate cake bites, and chewy cookie pieces.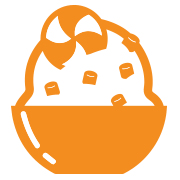 Santa's Gone Whoopie
This refreshing ice cream features marshmallow ice cream, chocolate cookie variegate, and red and white peppermint candies.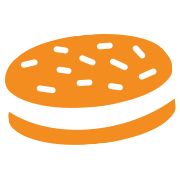 Stay Cool at School
This frozen novelty features cotton candy ice cream sandwiched between sugar cookies rolled in cotton candy sprinkles.
For More Flavors, Get in Touch