Creating Trendworthy Foods
In recent years, food designed to become a trend online has become a recognized category in the food industry. Products like the cronut, the rainbow bagel, or the Unicorn Frappuccino attract intense social media attention, particularly on highly visual platforms like Instagram, due to their outrageous appearance and eye-catching combination of ingredients. With Instagram recently topping over 500 million daily users, the attention these sorts of products can bring to your brand is substantial.
A dish going viral online can bring a new level of success to a restaurant, and the pursuit of the next hot item has thus become big business, as covered at length by the food website Eater. According to Eater, a trendworthy food should:
Be colorful
Have an element of surprise
Appeal to emotion
Have a cool factor
Be sweet and gluttonous
Be photogenic
Be relatable/appeal to shared experiences
Products that stand a strong chance of attracting online attention thus will be visually striking, surprising or unexpected, indulgent, visually appealing, and capable of drawing a crowd for a fun, social experience. These aren't merely delicious, culinary items but highly visual experiences ripe for social sharing.
With this rough formula in place, restaurants, bakeries, and marketing agencies are actively seeking to create the next food craze. Major brands are getting in on the action too, even in packaged foods: Kellogg's recently released Unicorn Cereal received significant media coverage, for instance.
Products like taiyaki (fish-shaped ice cream cones from Japan, made from a sweet waffle batter) combine color, emotion, and indulgence, appealing to consumers who want to take and post photographs of the item. These common elements are shared by many of the most successful items, like the cruffin (croissant muffin), milky bun ice cream sandwiches (essentially donuts filled with colorful ice cream), freak shakes (overloaded ice cream shakes with whole cookies and pieces of cake stacked on top), or mac 'n' cheese burgers (burgers topped with macaroni and cheese). A common theme in these products is mashing up two different products—croissants and donuts, cake and a milkshake—to create an unexpected hybrid.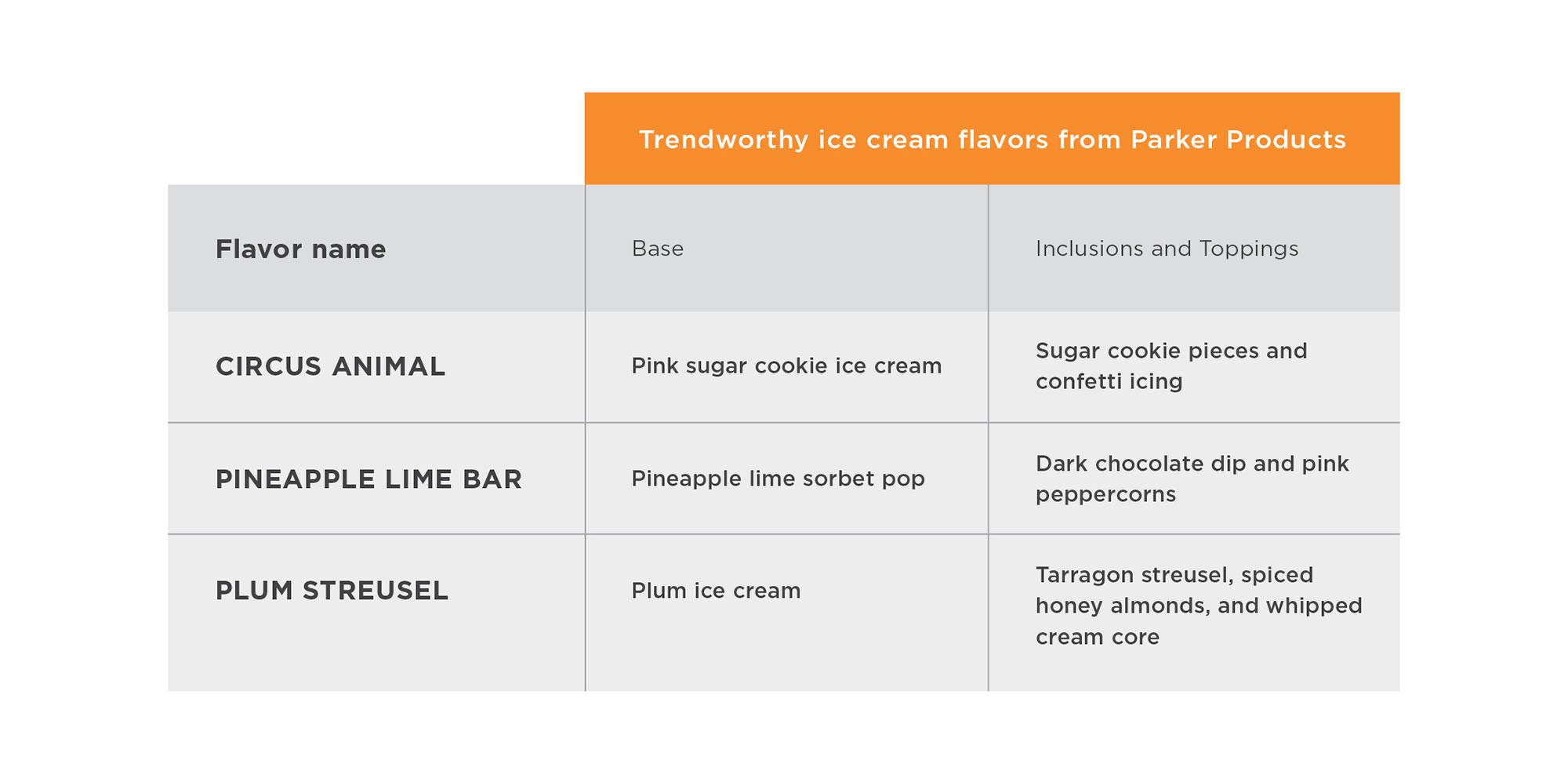 As the maker of intriguing ingredients, Parker Products offers the key items your brand needs to create a product with the visual and flavor potential to go big online. From color and texture to sweetness and indulgence, our inclusions, toppings, and fillings support creative, visually appealing applications like the ice cream flavors above. For more information on these and other trendworthy ice cream flavors, check out our 2018 feature flavors.
For another exciting option, our new baked inclusions encompass a variety of cake, cookie, and brownie pieces. Use them as toppings or blended in other applications—like ice cream, beverages, or baked goods—to create a fun, visually satisfying mashup with flavors limited only by your imagination.
Our talented product developers can help you develop trendworthy foods using our baked inclusions or any of our intriguing, delicious ingredients. Get in touch today.