Spring Into Floral Flavors
Incorporating fresh floral flavors in food and beverages is one of the most notable trends of 2017 so far.
Notes like lavender, elderflower, orange blossom, and rose are appearing in trend-forward and health-focused applications of many kinds, driven by their fresh, sophisticated profiles and health associations. While high-end chefs incorporate edible flowers into salads and entrees, food manufacturers are employing floral flavors, extracts, and the flowers themselves into snack foods, dairy products, and beverages alike.
Botanicals like chamomile and hibiscus have long been known as beverage flavors, however, with this trend they are being made more central to flavor profiles and used with greater flourish. Although research on the health benefits of these ingredients is still in an early stage, consumers appreciate the refreshing, unique qualities of floral flavors even in the absence of specific wellness claims.
Recent trends have seen floral flavors expanding from beverages into dairy, baked goods, confectionery, and other categories.
Our floral favorites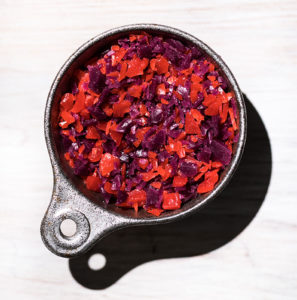 Here are five ideas for nontraditional applications using floral notes, offered by our team to spark ideas and help you tap the trend with intriguing ingredients from Parker.
1. Orange Blossom Almond Cookies
Combine Parker's Pastel Cake Droplet inclusion with a traditional sugar cookie batter swirled with orange blossom. Top with slivered almonds and powdered sugar for a light, summery treat suitable for high tea.
2. Strawberry, Lemon, and Elderflower Ice Cream
Flowers from the elderberry are intensely aromatic and rich, pairing well with berries and citrus alike. Though elderflower has long been popular in European beverages, it's only recently gained more awareness in the United States. This ice cream flavor pairs Parker's strawberry base with a lemon variegate infused with elderflower for a complex and refreshing ice cream.
3. Hibiscus Sprinkle Donut
Though hibiscus is traditionally associated with tart and spicy flavors like raspberry, lime, and ginger, that makes it all the better as a complement to the sweetness of a donut. This playful creation infuses Parker's pastel sprinkle bark with hibiscus for a colorful donut topping that balances sweetness and acidity, with the added delight of a floral aroma.
4. Creamy Rose Ice Cream
Combining Parker's French vanilla base with a note of rose water gives ice cream a subtle floral quality; ideal for fresh fruit and crisp pastry pairings.
5. Lemon Lavender Latte
This specialty latte features the spicy, floral qualities of lavender as a complement to the depth and sweetness of coffee. Topped with Parker's lemon sprinkles, the lemon lavender latte becomes an exceedingly floral and complex drink.
As makers of the ingredients that intrigue consumers, Parker Products helps brands add the flavors that intrigue consumers, like the on-trend floral notes listed above. Get in touch today to learn more about how our product developers can help you create memorable and delectable finished applications.